Album Review: Justin Bieber- Believe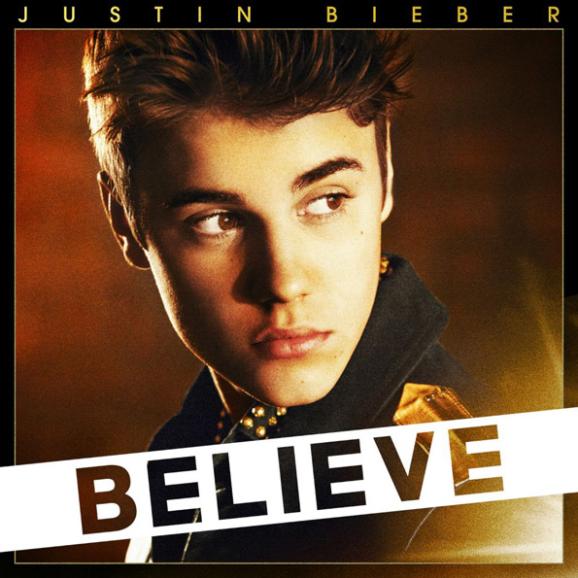 I have no problem with Justin Bieber. I was drawn to "Baby" when it was out. You can't deny the boy knows how to churn out good pop songs. Fast-forward a few years later, everyone was eagerly awaiting to hear the hype surrounding this new release. There's a lot of public love or hate relationship with Justin Bieber. He definitely couldn't be the worst thing to happen to the music industry. Justin Bieber is making music just like any artists out there and we must not forget he is only 18 this year. So imagine the pressure and media attacks thrown at him at such a young age when he released his first album. With that much hype to his name, there comes a lot of pressure to see what the Biebs can do next with his new album. He has been seen rapping, hanging out with some big hip hop names and credible producers, so all eyes on
Believe
. I sure was. 
First single off the album was "Boyfriend" and it was quickly compared to Justin Timberlake. Besides sharing the same first name with the 'N Sync member, Bieber is shadowing Timberlake's falsetto take and "swag" on this track produced by pop star Mike Posner. He's going for the cool factor by "rapping" on this track as well. There's a very catchy song titled "As Long As You Love Me" featuring rapper Big Sean, which was said to be influenced by dubstep, but it's only Rodney Jerkins (producer for Destiny's Child's "Say My Name", Whitney Houston's "It's Not Right, But It's Okay", Lady Gaga's "Telephone", among others) doing his magic here.
Some other stand out tunes are his R&B-infused "Right Here" with Drake, which sounds like a Summer smash already. Bieber's dance anthems like "Thought of You", "Take You" and "All Around The World" are commendable to compete with the big boys out there in the charts. Mixing EDM and pop is the formula to success. Just take it from his mentor Usher. Hear the Biebs croon for you on the smooth "Catching Feelings" and you can hear the maturity in his vocals. He doesn't have the pop that Justin Timberlake possess, but he's close with a silkier approach vocally. Don't forget the cheesier side of this child star on "One Love", but it's all innocent fun.
It doesn't matter if he roped in Nicki Minaj, Ludacris, Big Sean and Drake on his tracks, because Justin Bieber really shines on his own in this Believe album. "Baby" Bieber is definitely not here anymore. This album shows the world the grown-up Justin Bieber and the fact that there's no shame in liking the Biebs. He's come a long way and you can't deny he's doing a good job as a male pop star.
Believe
is a solid pop album and I'd highly recommend you to give it a go before judging this poor 18-year old again despite his cheesy lyrics on the album like…
"Swag, swag, swag, on you/ Chillin' by the fire while we eatin' fondue" in Boyfriend
"I could be your Buzz Lightyear fly across the globe/ I don't never wanna fight yeah, you already know/I'm a make you shine bright like you're laying in the snow/ Burr" in Boyfriend
"I'll be your Hova, you can be my Destiny's Child on a stinger" in As Long as You Love Me
"Don't be so cold, we could be fire" in Right Here
"We gonna party like it's 3012 tonight" in Beauty and the Beat
"Hey baby I love your accent-cent-cent/ I think I like you more because your

different-ferent-fer​ent-ferent"

in Out Of Town Girl
But yea, despite that… Give Justin Bieber's
Believe
a go and give the boy a break.
Once you're done giving the album a go, tweet
@Kevin_Yeoh
what you think of it.